We provide turnkey prototyping solutions to customers with a benefit of reduced time-to-market; we use philosophy of DFM, DFT and DFS review for a smooth transition of protos to bulk production. We have capabilities to manufacture small quantity prototypes with expertise in handling latest SMT technology based boards, BGA'S (0.5 mm pitch), LGAs/QFNs, QFPs of 12 mil pitch, 0402/0201 and even chip bonding.
We offer complete testing facility of basic measurements like Oscilloscope, Frequency Counters, Spectrum Analyzer, Power Supply and speciality tests like the JTAG based testing for DSP designs. Our expert technical team absorbs new technology faster & delivers prototypes most efficiently on a turnkey basis.
Proof of Concept and Prototype: Automotive Seat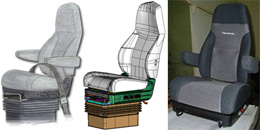 We can build complete proof of concept as well as validation samples at our prototype shop. Our facility is fully equipped with vehicle lift, turning, milling, welding, cranes/hoists, test rigs. We can handle up to 4 ton vehicles in the prototype facility. Our skilled artisans can work on sheet metal, plastics, steel, aluminum, castings and forgings.